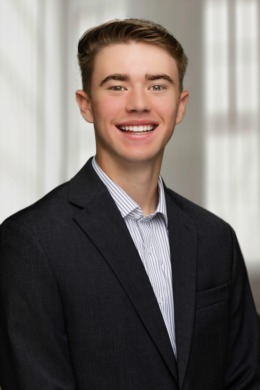 Mitchell Stoakes grew up in Grand Ledge, MI where he attended GL high school, and played soccer and golf for his full high school career. While in high school, he was also dual enrolled in Davenport uni. He is attending LCC to get an associate degree in business. 
Mitchell became a realestate agent because he loves working with others and helping them achieve their homeownership dreams. He is passionate, eager and willing to help you with all of your real estate questions and needs, as this is a very important decision in your life. Mitchell Administers a high level of communication, professionalism, and knowledge of what it takes to be the best agent for the job. That is exactly what Mitchell provides for his clients!
Testimonials
Mitchell was amazing to work with! Timely, tangible, transparent, and informative! You're in good hands!
Antonio James
I was a first time home buyer who had been talking to another realtor in this office off and on for almost a year. When I was finally ready to move forward, they had moved on an opportunity in another field of work. That's when Mitchell Stoakes stepped up, contacted me, seamlessly picked up where they left off, and we began our journey. We were off on an amazing and wild ride! You see, I am not an easy person to work with if you're the kind of person who likes a direct line between two points. Yes I am laid back, easy going, very open minded, more than willing to work outside conventional boxes; but I'm also very curious, love to research my interests, and explore all kinds of possibilities (usually on the fly), explore new directions on a hunch... you know, the typical nightmare potential for a realtor. It's not something I do intentionally, it sneaks up on me too! Mitch was awesome! He proved to be adaptable, flexible, and willing to change directions, take long leaning S curves, or pull off the occasional figure eight even. He kept up with my swerves every step of the way; whatever I threw at him, whatever time of the day. He stayed calm, professional, and focused on MY goal, not his, not anyone else's interests, always focused on my goal. Mitch told me from the start that he was there to help guide me thru the process and make sure I ended up where I wanted, in the house I wanted. He did exactly that! I am thrilled (I would normally say stoaked here, but it's too close to Stoakes and I have no patience for those of you who live for tormenting others over coincidences, or whatever your torment game may be). I ended up with much better fit for me than I had ever dared hope for, and I couldn't be more pleased with the service level Mitch provided every step of the way. If your looking for a realtor who will put your goals ahead of his own, and who will walk every step with you, who is professional, knowledgeable, and personable, Mitchell Stoakes is the realtor I have no hesitation recommending.
Gee W.
The purchase of our property went smoothly with the guidance of our realtor, Mitchell Stokes. Mitchell navigated through our transaction with the assistance of the great staff at Union Home Mortgage for a stress-free closing time -frame of 23 days. We are very happy with our purchase and the efforts of our young and ambitious realtor.
Bob Listeman